E-BIKE
RENTAL
IN MONTEPULCIANO
Don't drive the car, don't waste gasoline, don't worry about traffic jams and parking, live in a better world (as far as possible).
URBAN BIKERY was founded to reach this goal with the first e-bike rental in Montepulciano.
Only top design and handmade e-bikes
Who are our e-bike riders?
We can rent our e-bikes to those who 1) are 18 years old and older 2) wear comfortable clothes and shoes 3) have a credit card as a guarantee.
You don't have the whole day to enjoy the ride? For your e-bike rent in Montepulciano you can choose rentals for a half day or for two hours.
You don't have to be a sports professional: the electric motor helps you! If travellers do not know the surrounding area we will give them an e-bike together with a smartphone with a simple GPS app which will guide them through our suggested tours.
EQUIPMENT INCLUDED IN THE RENTAL SERVICE
Every time our clients rent our e-bikes we make sure that security comes first. For this reason we include 1) backpack 2) k-way 3) helmet 4) lock 5) instant ice pack
And then a smartphone with a sim card and a smartphone mount are included. This way, your ride will be easy and fun.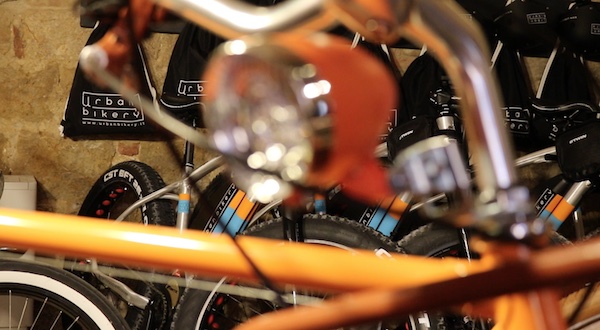 EQUIPMENT INCLUDED IN THE RENTAL SERVICE
Prices for an e-bike rental in Montepulciano start from Euro 25 for two hours, Euro 45 for a half day and Euro 65 for the whole day. In case you need an e-bike for more than one day a special price will be applied according your request.
For details visit http://www.urbanbikery.it/en/prices-and-conditions/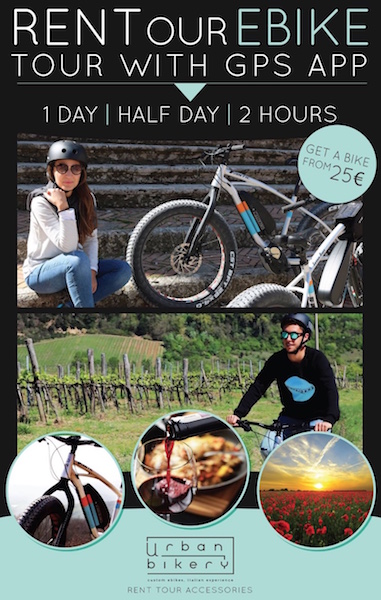 HOW TO RENT
The simplest way to rent our e-bikes is to fill in the contact form here. Or you can send an email to booking@urbanbikery.it or a whatsapp message to +393775453297. Before renting, it's possible to have a free try so as to feel confident on an e-bike.