WOULD YOU LIKE TO VISIT MONTEPULCIANO WITH AN E-BIKE?
Why not? The best way to visit Montepulciano is with an e-bike!
TOUR AND E-BIKE
Certainly we didn't ask any questions about why visit Montepulciano ( we could list hundreds of reasons) since it is still one of the most popular destinations in Italy for italians and foreigners. But how can you visit Montepulciano to ensure that it's not the classic walk along the main course of the historic center?
An alternative and exciting way to visit Montepulciano is with the Urban Bikery's e-bike. The pedal-assisted bike has a range of about 45 km that allows you to be able to enter to Val d'Orcia countryside in Tuscany without any difficulty or fatigue. The tours designed and proposed by our brand are the best way to get in touch with the peculiarities of the territory, both from eno-gastronomical, artistic and cultural point of view . This type of movement, easy and ecological for everyone, is the best way to visit Montepulciano and surroundings.
THE E-BIKE IS GOOD FOR YOURSELF AND IT'S GOOD FOR THE COUNTRY
First of all we understand why the best way to visit Montepulciano is with the e-bike:
1. The medieval town is located on a hillside, 605 meters above sea level, surrounded by vineyards. From a morphological point of view it is characterized by continuous salts and drops, sometimes very challenging (with a normal bike it would be almost impossible to practice our territory, unless you are a professional cyclist);
2. Because to visit Montepulciano without immerse yourself in the nature of wine cellars, for a direct taste, it would be really a pity. A tour of the cellars and the surroundings of Montepulciano with an e-bike can offer many surprise: a suddenly sunset or a stop in a smal village or in front of fantastic view;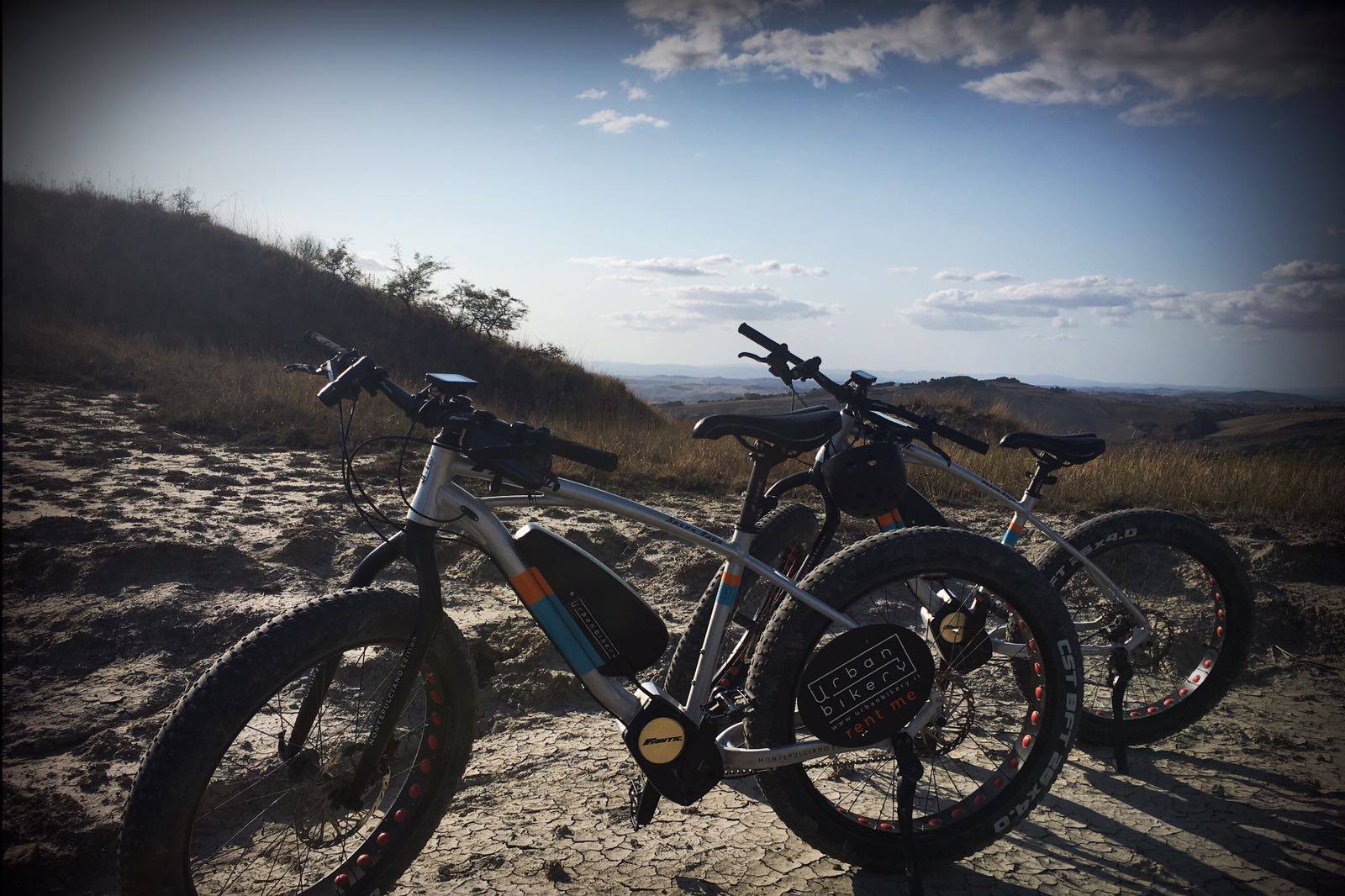 3. Moreover, Montepulciano has few parking free near the center and almost all of them are paid parking ;
4. The e-bike is good for the environment, with 0 emissions, and also saves your time, being able to access limited traffic zone and without having to go crazy to look for parking.
5. The e-bike, without doubts, is good for health: of course, the pedaling is assisted but still makes movement! You will be trained and fit and will also improve your mood, combining useful with pleasure;
The simplest way to rent our e-bikes is to fill in the contact form here. Or you can send an email to booking@urbanbikery.it or a whatsapp message to +393775453297. Before renting, it's possible to have a free try so as to feel confident on an e-bike.